The best D&D Dice available, rated 4.9 Stars on Etsy. 
Hail, fellow adventurer!
Welcome to our realm, where the quest for the perfect DnD Dice finds its triumphant end. Fret not, for your desires shall be fulfilled. We cater to a diverse range of Dungeons and Dragons Dice, DnD Accessories, and Digital Assets to aid in any adventure. We have scoured the lands and deep seas to ensure you're fully prepared for your next adventure with high-quality RPG dice sets and accessories.
Who is the Mystery Dice Goblin
Hail, Adventure!
Attention, weary travelers and valiant adventurers! Behold, our sacred emporium, where the pursuit of the ultimate D&D Dice reaches its zenith. As guardians of destiny, we cater to a diverse fellowship - human bards, elven rangers, dwarven fighters, half-orc thieves, halfling clerics, and even immortal vampires.
We are Lee & Lucy and we founded Mystery Dice Goblin because we are long time Dungeons and Dragons players and DMs. Thank you for visiting our shop.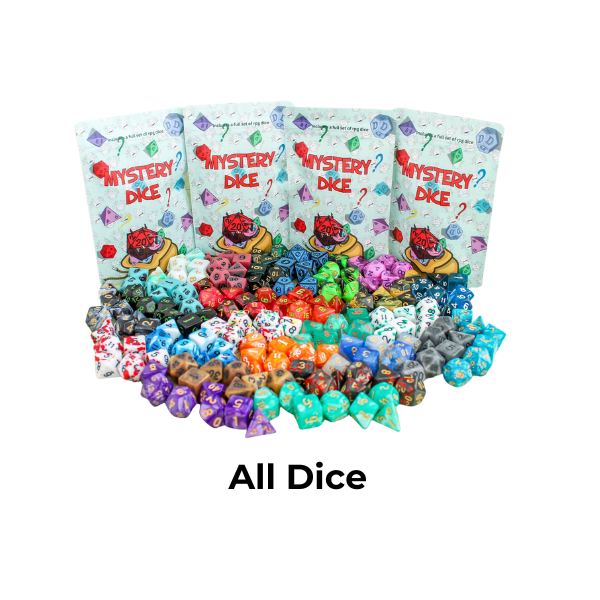 Why Mystery Dice?
Looking for a fun and exciting way to add a little mystery and surprise to your life? Or buying something for a group of dnd goblins? Look no further than our Mystery DnD Dice Bags!
Excellent quality Dungeons and Dragons Mystery dice!
Over 100 unique DnD Dice sets available 
Rated ⭐⭐⭐⭐⭐ on Etsy
New & exclusive Dice Sets
Our products
Why Metal Dice
Metal dice have an advantage; they are much heavier and tend to have more uniform faces. They don't roll as far as plastic, which may seem less random, but rolling or shaking them in your hand is the real source of randomness in both plastic and metal dice, a must for any dice goblin dnd fanatic.
Our products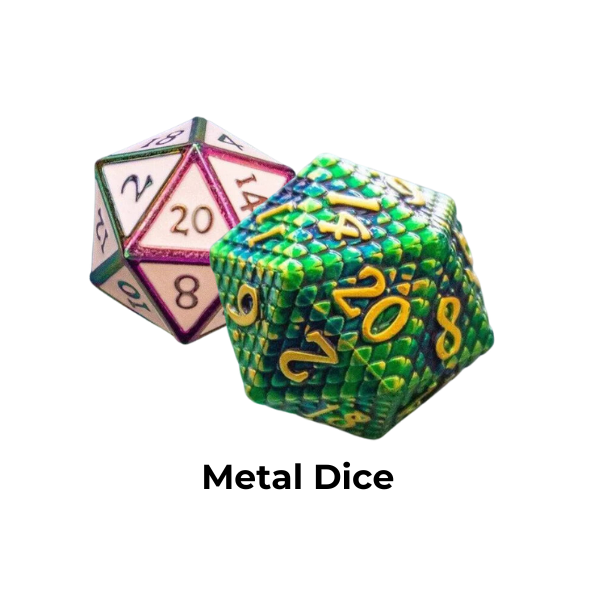 Very happy with my selection of mystery dice, received a clear/white opalescent variant which looks stunning, its glittery under...

Read More

Very happy with my selection of mystery dice, received a clear/white opalescent variant which looks stunning, its glittery under the light so a real eye catcher! Fast delivery, thank you

Hide

Posted on
CREATED BY ROLE-PLAYERS FOR ROLE-PLAYERS
We value your opinions and suggestions greatly. Your feedback is like a magical spell that helps us improve. Every message you send will be read and answered promptly, for your satisfaction is our ultimate goal. We strive to create a dice shopping experience that is effortless and enjoyable. Recognising that not every game calls for the same dice set and that players have diverse preferences for colours, we offer a vast selection of DnD Dice sets styles and colour to cater to your next RPG dice-rolling journey.
A thank youfor being such a big dnd goblin and for choosing to embark on this adventure with us. May your rolls be lucky and your campaigns be legendary.
Role Playing Games Blog - The Mythical Scroll
View all
Welcome, fellow adventurers and Dungeon Masters, to another exciting installment of our Dungeons & Drago...
WILDEMOUNT is a captivating exploration into the fantastical realm of Exandria, brought to life by the creat...